Finding a pair of heels that are comfortable (enough) to make it through the day can be a battle at the best of times, but when you've got narrow feet, the problems don't just stop at comfort. Gaping at the sides, sliding forward and slipping out of your heel are all part and parcel of the day-to-day unless you invest in heels for narrow feet. Worth it? We think so. From design hacks to getting your sizing right, here's how to find the best kitten, mid and high heels for narrow feet.
RECOMMENDED HEELS FOR NARROW FEET
Save sandals for the Summer
When you've got narrow feet, slipping and sliding around can be an issue unless you choose heels for narrow feet that support your foot properly. Closed-toe designs have more coverage than open and sandal styles, so if you notice that your foot moves around in a heel, try to get a closed - toe silhouette for extra stability.
Pointed toe and almond - toe pumps are a great option as the smaller toe box lends itself to a narrower foot. If you love the look of a square toe but find the silhouette too roomy, it might be worth trying a half size down or using an insert to pad out the extra space in the toe box.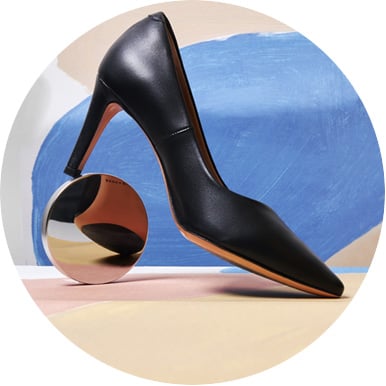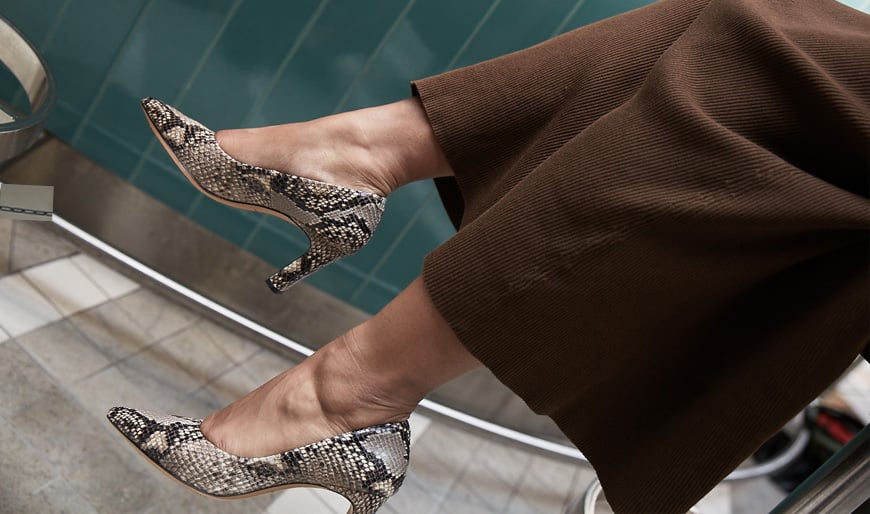 Closed shoes are recommended for narrow feet because they reduce sliding
Keep your foot where it's supposed to be
Rather than tensing your foot and using your toes to cling onto your shoe, invest in a style with straps to reduce movement. The best heels for narrow feet have adjustable straps so you can tighten them as much as you need to stop your foot from shifting forward in the shoe (your toes will thank you) or rolling to one side.
Look to Mary-Jane pumps for a classic design that incorporates straps in a fashion-forward way. A wider strap will provide the best option as far as heels for narrow feet go but any adjustable strap that you can tighten to suit your foot width will be better than nothing at all.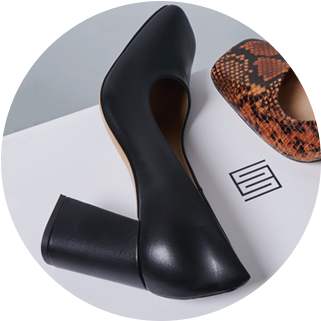 Consider a sculpted heel
When searching for heels for narrow feet, it's worth remembering that the higher the heel, the less stability you're likely to have. If high heels for narrow feet are top of the wishlist, consider giving a block heel a go. The wider surface area of a block heel distributes your weight better for more support as you walk.
If a block heel doesn't fit with your look, a sculpted heel is a great choice that blends the comfort benefits of a wider heel with a more edgy, modern look