Whether to wear heels at work is undoubtedly one of the most polarising conversations you can have about workplace style. From the 'I don't feel professional without heels' camp to team 'flats forever', the seemingly impossible task of finding comfortable shoes with heels for work has left us with an all or nothing mentality when it comes to choosing our office footwear. If you love the idea of wearing a heel in the office without powering through pain and discomfort, there are a few things to keep in mind when choosing your perfect comfortable work shoes.
RECOMMENDED COMFORTABLE WORK SHOES
Keep it low
If a towering stiletto is what comes to mind when you visualise heels, you're missing a whole world of stylish yet practical options for comfortable work shoes. Heels up to 80mm (that's 3 inches) can tick the comfort and practicality boxes without leaving you in pain all day. The most comfortable work shoes, heels and flats included, are those that properly support your feet; so, when you're thinking about how high to go, it's important to take your foot shape into consideration.
If narrow feet mean you easily slip forward into a shoe, a kitten heel could be a more comfortable option, while those with high arches might find a mid-heel more supportive than a flat shoe. Ultimately, it's important not to view heels as the enemy of comfort; everything from a closed- toe kitten heel to a mid-heeled sandal can function as comfortable shoes with heels for work.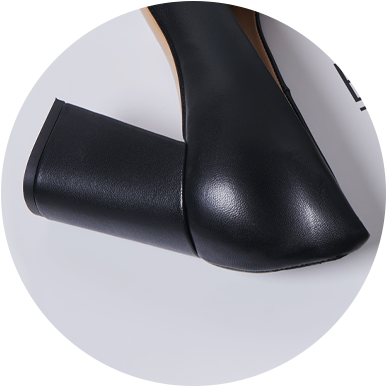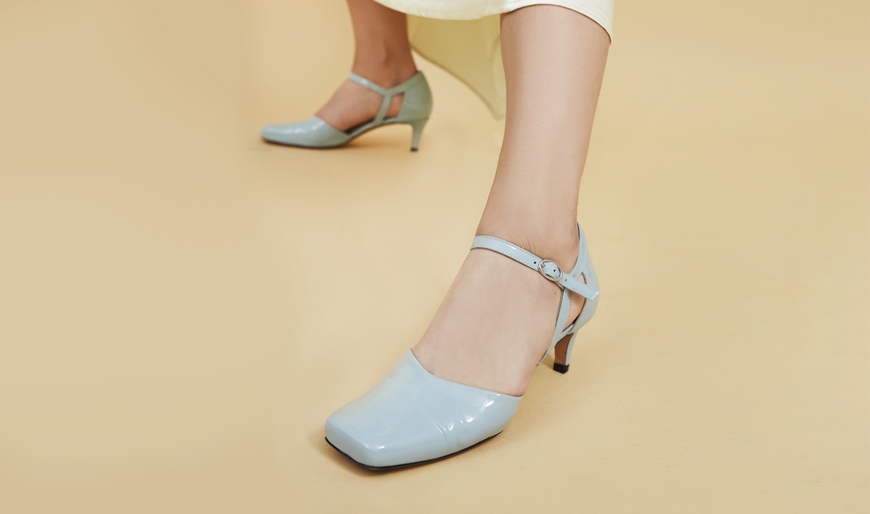 A kitten or midi heel works well to give a lift without compromising on comfort
Heels and stability don't always go hand in hand. If the fear of rolling over on your ankle or stumbling at work is stopping you from wearing a slim heel, consider a block heel instead. Far more stable than a stiletto due to your weight being distributed over a wider area, block heels can be just as stylish and professional as a slimmer heel and are an excellent choice for comfortable work shoes.
Heel weight can make a difference to your day-to-day comfort so try to pick a style with a lightweight heel but once you've got your perfect heel height and shape, there's no limit to your choices. Style a block-heeled ankle boot with midi dresses and sweeping, wide-leg trousers in the cooler months while the summer heat works well for square - toe court shoes and sophisticated strappy sandal.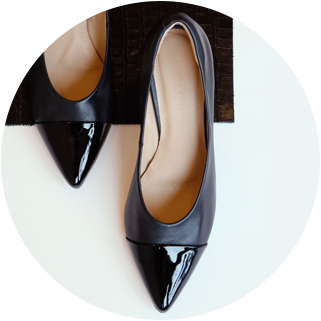 The luxury of a leather lining
The working day often means standing chatting to colleagues, dashing between meetings, presenting on your feet and travelling to and from the office. With so much time spent on your feet, having comfortable work shoes is a must; picking a style with a real leather lining can make a substantial difference to your comfort. As your feet swell during the day, having a flexible, soft and breathable lining is one way to ensure you don't feel hot and trapped in your shoes whatever the weather (or your schedule) throws at you.
Leather linings are most commonly found in luxury shoes but as we know how important the comfort benefits of leather are, we've ensured that Each x Every shoes all have leather linings so you don't have to compromise on comfort.
Finishing touches that work for wide feet
Don't overlook those finishing touches like what heel height you choose, the toe box shape and any closures or straps - all of which can make an impact on your comfort levels. If buying shoes with straps, make sure they're adjustable. The added flexibility is particularly helpful for those with a wider foot and can be changed as your feet heat up, swell and cool throughout the day.
It's not a surprise that the most comfortable shoes for wide feet are those with a lower heel; not only will a low heel increase stability on the go but will also reduce the amount your toes will slide into the toe box. To avoid cramped toes altogether, choose a mostly flat shoe or a low-mid block heel if you want a little lift. Lastly, think about your toe box; a round or square toe will give you much more breathing space than a pointed one - exactly what you need when catering to a wider foot.