Forever a staple in every woman's wardrobe, the boot is a style workhorse. If your foot is naturally wider than average, however, finding boot styles that work for you isn't always easy. You may already know whether or not you have a wide foot from years of trial and error when trying on shoes but in case you're not sure, it's a good idea to measure your feet.

It's not common for footwear brands to advertise their width measurements but at Each x Every, we fit all our shoes on different sized feet to make sure we can give our customers the most helpful information when it comes to finding the right fit. From the best styles to ease pressure, to how to achieve all-day comfort, here's what to look out for when buying boots for wide feet
RECOMMENDED BOOTS FOR WIDE FEET
Flexibility is freedom
Choosing boots with adjustable closures (read: laces, buckles and straps) will not only make it much easier to get your shoes on in the morning, but removes the one-size-fits-all element that makes buying boots for wide feet so difficult. Laces are best because you can tighten and loosen them with the most flexibility.
Remember that regardless of whether you're buying a smart leather style or a hiking boot, the further down the laced eyelets go, the more you'll be able to adjust the boot for a better fit. If laced-up styles aren't what you're looking for, keep an eye out for discreet adjustable straps or elasticated leather around the opening (such as in a Chelsea boot) that move with your foot as your walk.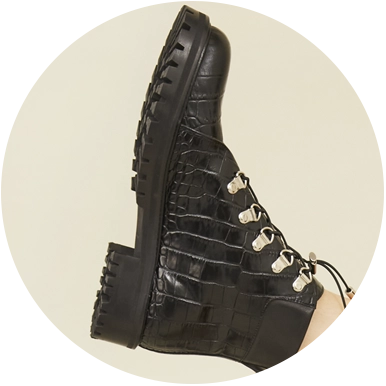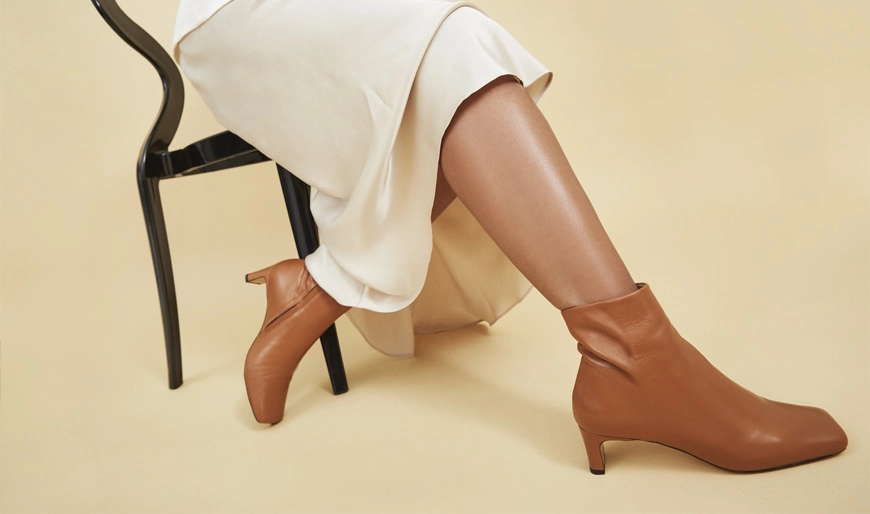 Square-toe styles are recommended for wide feet because they offer more room for your toes
It's all about the leather
When buying boots for wide feet, choose the best leather you can possibly find, and ideally a design without any seams that can rub or cause irritation. Buttery full-grain leathers like lambskin and soft suedes like nubuck are the ideal choice for a wider foot as the leather conforms to you for a glove-like fit.
To increase the feeling of all-day comfort, cushioning is particularly important. The boot lining should be made from soft leather, but ideally will have extra cushioning - at Each x Every we use a sacchetto construction (where the lining is sewn into the upper to form a cushioned pouch). If you wear a prescribed insole or orthotic, a removable footbed is paramount when choosing boots for wide feet, just don't forget to check that the boot has enough depth to accommodate your orthotic.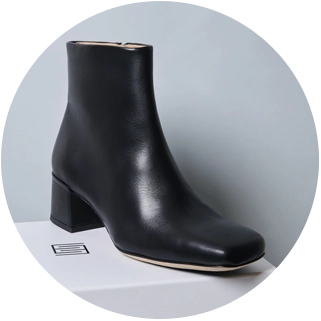 Heel to toe
When dealing with wide feet, the most impactful thing you can do is to buy a boot that is specifically sized for wide feet. However, with the number of brands offering different width options few and far between, if you're struggling to find boots for wide feet that tick all the boxes, it's not the end of the road. There are a few helpful design features to look out for when buying conventionally sized shoes that can also make a difference to your day-to-day comfort.
Firstly, take note of the silhouette of the boot - is it stocky and wide or slender and form-fitting? The amount of space the design gives will make a difference to how comfortable you'll be throughout the day so don't underestimate anything, from the toe box to the heel.
Look to modern square - toe styles that give more room in the toe box and will likely be one of the more comfortable options when it comes to boots for wide feet. Heel size is also a big comfort factor; chunky, block heels that spread weight across more of your foot will reduce heel pressure and up the comfort factor. If a stiletto is still on your mind, consider a more stable sculpted heel as a meet-in-the-middle option instead.