From heatwaves to pregnancy, there are plenty of scenarios that can cause your feet to swell. But, if it's proving tricky finding cute shoes for swollen feet, know that you're not alone. It's thought that swelling of the feet is more commonly experienced by women, so when you're on your feet all day, it's particularly important that you find footwear that keeps you comfortable without compromising on style. If you're hunting for cute shoes for swollen feet, make sure you keep these three key points in mind to find the perfect balance between style and substance.
RECOMMENDED SHOES FOR SWOLLEN FEET
Look for stylish, adjustable closures
When your feet are prone to swelling, the last thing you want is to feel stuck in a rigid shoe. To make sure your shoes are as flexible as you need them to be, look for styles with adjustable closures such as laces, straps and buckles. If you're buying boots, choose styles with laces that come up high on the upper for extra control over how tight or loose you want to tie them. When it comes to finding cute shoes for swollen feet, striking a balance between comfort and style is all in the details.
Little touches such as elasticated straps help to expand the shoe as your foot swells but aren't always the most stylish choice. Instead, Each x Every secretly places hidden bands on key leather straps, providing all the flexibility you need as your foot changes throughout the day. Who said cute shoes for swollen feet were hard to find?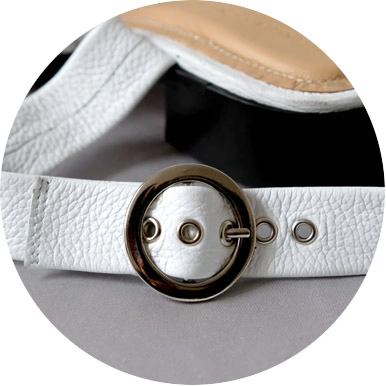 Consider sandals for swollen feet
It's a proven fact that heat can exacerbate swelling, so if you're in need of cute shoes for swollen feet that can keep up in warmer weather, it's time to consider a sandal. What's great about sandals for swollen feet is that you're usually able to adjust them in more than one place ie. across the band of your foot and around the ankle.
If sandals feel a little too casual, consider a smarter open shoe such as a Mary-Jane heel, a mule or a stiletto sandal. When it comes to choosing sandals for swollen feet, as long as you can easily adjust the shoe to suit your foot throughout the day, you should be free to pick and choose between the styles you really love.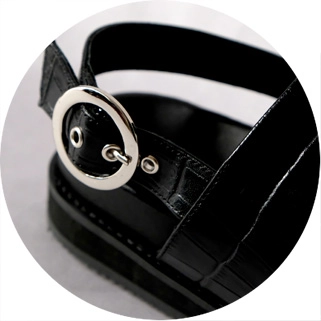 Don't underestimate a leather finish
When you're looking for cute shoes for swollen feet that can pull their weight in the style and flexibility department, leather should be the only material you consider. Soft, supple and luxurious to the touch, premium leather has much more give over synthetic materials and will mould to your foot over time for a more tailored fit. Be careful about the types of leather you go for though as some finishes are tougher and more structured than others. For the most stylish, flexible and cute shoes for swollen feet, invest in supple suedes, lambskins and full-grain Nappa leathers.