A pair of comfortable trainers is a wardrobe essential no matter the season. Whether you're dressing down tailoring or perfecting your casual weekend look, comfortable trainers are the modern way to get around the city. When you're on your feet all day, it's important to make sure your feet are taken care of - keep these key pointers in mind when you're looking to invest in some truly comfortable trainers.
Prioritise a comfortable footbed
Ladies' comfortable trainers start with a supportive footbed. Not only should your footbed cushion your foot against the impact of walking but also support your arch. If you experience any pain in your arch, it's possible that your arch hasn't been properly supported by your current shoes. A cushioned footbed is an important marker of comfortable trainers - it can help to alleviate this strain so you can keep walking comfortably for longer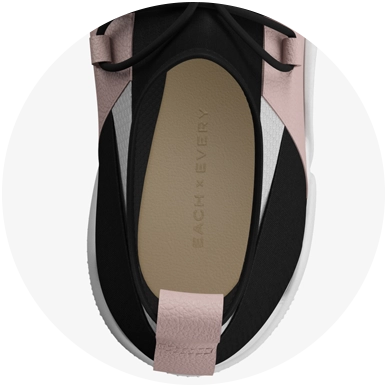 Know your size beforehand
As obvious as it may sound, measuring y our feet beforehand can make a huge difference when it comes to buying ladies comfortable trainers. Many people inadvertently wear the wrong size trainers simply because they don't realise that they're actually a half size smaller or larger than what they thought was available.
The same applies to widths too. All our Each x Every trainers come in a full range of half and full sizes as well as three width options to ensure you're able to find ladies comfortable trainers with a perfect fit.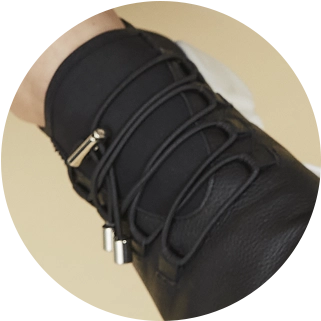 Choose your closures carefully
When looking for comfortable trainers, ask yourself how adjustable they are? Eschew slip-on styles for classic laces so you can control exactly how tight or loose you want them to fit. Not only are laced trainers far more likely to be comfortable in the long run but they're a smarter option too so you'll be more likely to wear them regularly too. As a golden rule, choose straps over slip-ons and laces over straps. But, as long as you're able to adjust them (and you've ticked off the other two pointers), you've likely found your next pair of comfortable trainers.
Although a rare find in trainers, leather linings are really what separate seasonal high - street trainers with styles you'll want to wear over and over again. Soft and supple, a leather lining allows your foot to breathe so you can wear your trainers year-round without fear of unpleasant odours.
Not only does a full-leather lining add an extra layer of softness and sense of comfort, but it also moulds to your foot over time to create a glove-like fit you've likely never experienced in a trainer.